Key events
First set: Rublev 1-3* Djokovic (*denotes next server) Djokovic did not look entirely happy during that service game, one errant first serve particularly irritating him. Rublev makes a solid start here with some aggressive shots, but again lets a 40-15 lead slip to deuce. Djokovic digs out a return in trademark style to earn a break point – and Rublev double-faults! Oh dear.
First set: Rublev *1-2 Djokovic (*denotes next server) Rublev will be happy to get through that first test, but Djokovic certainly made him work for it. Can he apply any pressure on the Djokovic serve? It's not firing on all cylinders just yet, but he takes the game with a cross-court winner.
First set: Rublev 1-1* Djokovic (*denotes next server) After opening with a double fault, Rublev comes through what may be the first of many long rallies – but Djokovic stays in the game with a clinical, baseline-clipping lob. Rublev steps forward to put away a forehand at break-point down, and gets on the board with an ace.
First set: Rublev *0-1 Djokovic (*denotes next server) Djokovic, his left thigh heavily strapped once again, fires down some big first serves to hold. Rublev does offer some threat on second serve, particularly with a ferocious cross-court winning forehand.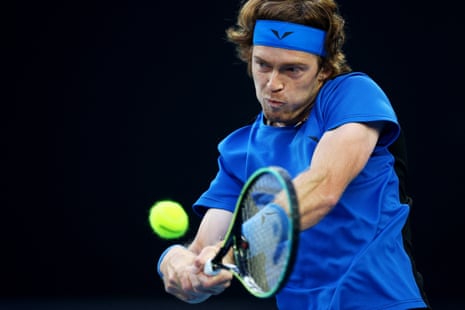 Here they come! Both players out on court, with Djokovic getting a big ovation. Plenty of Serbian flags fluttering in the stands at the Rod Laver Arena. It's currently a balmy 26 degrees in Melbourne, with a bit of breeze too.
Head-to-head: Djokovic leads Rublev 2-1 in their three previous meetings, having beaten Rublev twice on hard courts at the ATP finals – but the Russian can take heart from a victory in last year's Belgrade final. Admittedly, that was on clay and Djokovic was not in peak form – but Rublev won the last set 6-0, the only player other than Rafa Nadal to bagel big Nolé in the last five years.
Here's Tumaini Carayol on Wednesday's quarter-final action in the women's draw, where Magda Linette continued her unexpected run:
The winner here today will face Tommy Paul in the semi-final, after he emerged victorious from the earlier all-American battle with Ben Shelton, winning 7-6 (8-6), 6-3, 5-7, 6-4. The 25-year-old reached the fourth round at last year's Wimbledon, but this is his best performance at a grand slam by some distance.
Andrey Rublev is seeded just one place below Novak Djokovic, but that rather undersells the size of his task today. The Russian is 0-6 in grand slam quarter-finals, losing five of those matches in straight sets. He has the all-round game to go further, but it will be tough to overcome that hurdle today against a man chasing history.
Djokovic is one win from equalling Andre Agassi's 26-game winning run in Melbourne, and the favourite to clinch a scarcely believable 10th Australian Open this week. He has taken a while to hit top gear this year, held back by a hamstring injury early on but after dispatching Alex De Minaur in ruthless fashion, he is undoubtedly the man to beat.
Play starts shortly, so get comfortable and follow along right here – and you can get in touch with me via email or on Twitter.