City council tetchy about proposal for Sault mega-riding
September 23, 2022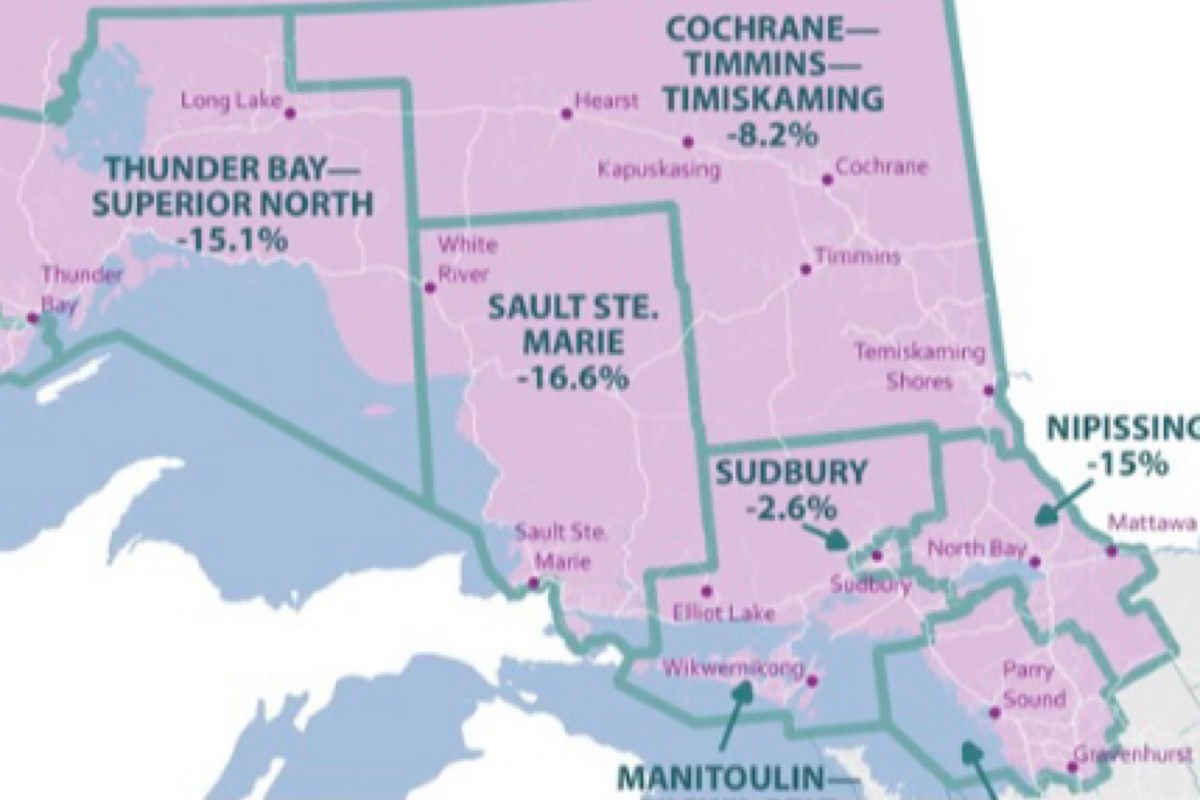 Sault Ste. Marie city council has added its voice to others opposed to turning our federal electoral district into a "mega-riding."
"The…proposal would fragment, diminish and reduce access to federal representation for the city and area residents" says a resolution authored by Ward 5 Coun. Corey Gardi and Ward 2's Lisa Vezeau-Allen, passed this week by city councillors.
The Federal Electoral Boundaries Commission for Ontario wants to enlarge the existing Sault Ste. Marie riding to several times its current geographic size.
Currently, our riding generally lies between the Montreal River to the north and St. Marys River and North Channel to the south.
The proposed new boundaries would include Chapleau, White River, Huron Shores and Bruce Mines.
Our local MP would serve a combined population of 97,299, up more than 17,000 from the current 80,371.
The existing Algoma-Manitoulin-Kapuskasing district would be eliminated.
Coun. Gardi told Tuesday's council meeting that similar resolutions have been passed or are being considered by neighbouring municipalities.
"This is a terrible decision," he said.
"I think when we talk about less representation for northern Ontario, it means less influence."
Eleven in-person public consultations about the boundary changes are planned across the province, but the only one in northeastern Ontario will be in Timmins.
The following is the full text of the resolution passed this week by Sault Ste. Marie city council:
Federal electoral boundaries
Mover: Councillor C. Gardi
Seconder: Councillor L. Vezeau-Allen
"Whereas the Federal Electoral Boundaries Commission for Ontario is proposing a redistribution of electoral districts which would see the elimination of the Algoma-Manitoulin-Kapuskasing District and the creation of a mega-riding called Sault Ste. Marie; and
"Whereas the elimination of that riding would reduce the number of northern Ontario seats from ten to nine, weakening the north's voice in parliament; and
"Whereas the Federal Boundary Commission proposal to cut representation in the north is contrary to the 2017 electoral boundary changes for Ontario that recognized the need to add two seats to ensure fair participation for northern residents: and
"Whereas the new mega-riding of Sault Ste. Marie would incorporate Echo Bay, Bruce Mines, Thessalon, Wawa, most of Huron Shores, Chapleau, Dubreuilville, Hilton, Jocelyn, Johnson, Laird, Macdonald, Meredith and Aberdeen Additional, Plummer Additional, St. Joseph, Tarbutt, and White River, as well as Hilton Beach; and
"Whereas the following First Nations reserves are also proposed for inclusion in Sault Ste. Marie riding: Chapleau No. 74A, Duck Lake No. 76B, Chapleau No. 75, Thessalon No. 12, and Chapleau Cree Fox Lake; and
"Whereas the proposed new super-ridings will force municipalities to compete for a limited amount of riding funding which will further exacerbate inequities in the north; and
"Whereas northern Ontario's population per riding is already much higher than many other rural and isolated regions in Canada's north; and
"Whereas COVID-19 has recently resulted in many Canadians moving to Sault Ste. Marie to live and work; and
"Whereas the Rural and Immigration pilot has been very successful in attracting newcomers to Sault Ste. Marie and area; and
"Whereas the Federal Electoral Boundaries Commission for Ontario's proposal would fragment, diminish and reduce access to federal representation for the city and area residents; and
"Whereas the Federal Electoral Boundaries Commission for Ontario is seeking public input on its proposed riding boundary changes, yet has scheduled only one in-person consultation in northeast Ontario to be held in Timmins
"Now therefore be it resolved that the City of Sault Ste. Marie urge the Federal Electoral Boundaries Commission for Ontario to not reduce the number of MPs for Northern Ontario, respect the geographical boundaries of cities and the makeup of the current ridings, and withdraw the proposal to eliminate the federal riding of Algoma-Manitoulin-Kapuskasing District and the expansion of the existing Sault Ste. Marie riding; and
"Further be it resolved that a copy of this resolution be forwarded to Paula Puddy, commission secretary, Federal Electoral Boundaries Commission for Ontario prior to the September 25, 2022 deadline, as well as to Terry Sheehan MP and to the Federation of Northern Ontario Municipalities."