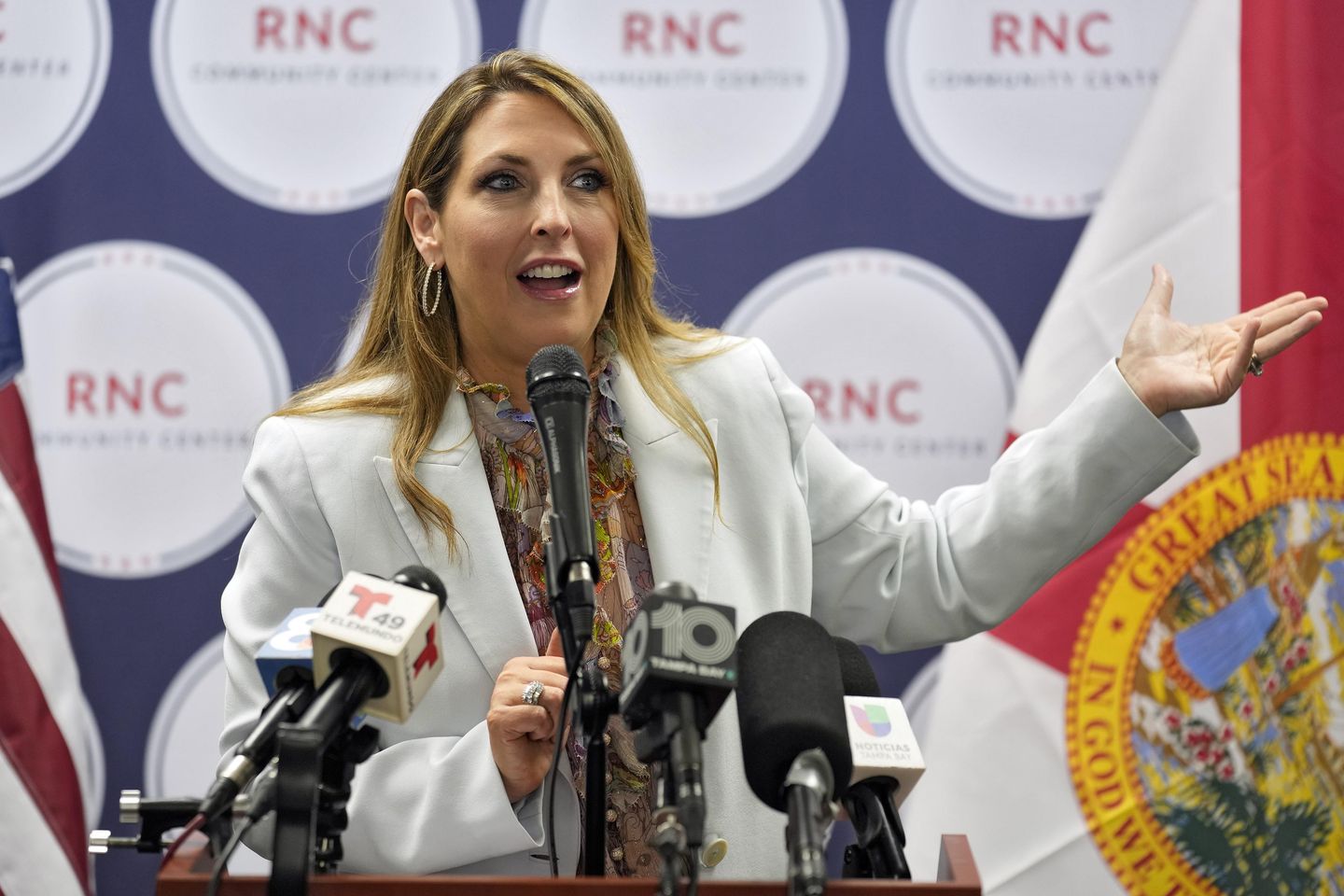 DANA POINT, Calif — The race for chair of the Republican National Committee has turned into an acrimonious affair that has exposed lingering rifts and left some members wondering whether this family feud has been good for the GOP. 
RNC members gathered here for their winter meeting say the race — featuring Ronna McDaniel, who is seeking a fourth term, and California committeewoman Harmeet Dhillon — has taken on a negative tone and triggered infighting that they would prefer to have kept behind closed doors.
Rich Anderson, an uncommitted RNC member from Virginia, told The Washington Times that some in the party "feel like we need a great public cleansing conversation."
Indeed, pro-Dhillon forces have made the case that the party has grown complacent and a robust debate is long overdue for a party that is picking up the pieces from another disappointing election cycle.
"I would prefer to do all this in private," Mr. Anderson said, contrasting it with the way Democrats handle their disputes. "I like to say Democrats take it in the backroom and do it there. What we do is we say, 'We'll meet you on aisle three at Walmart and bring your cameras.'"
Things will come to a head Friday on the final day of the winter meeting. That is when the committee's 168 members — comprised of three representatives from each of the 50 states and territories — cast their secret ballots at the luxurious seaside resort in Dana Point that overlooks the Pacific Ocean.
Under RNC rules, the winner must capture a majority of the votes cast. If no one wins in the first round of voting, they will continue to cast their ballots until a winner emerges.
Mike Lindell, the MyPillow CEO and fierce promoter of former President Trump's stolen election allegations, also is on the ballot. He is not considered a serious contender.
With Republicans well-positioned to flip the Senate next year and angling to win back the White Huse, the stakes of the race are high.
The next RNC chair will have a lot of influence over the rules governing the 2024 GOP presidential debates — including who can qualify. They will be responsible for raising money and spending it on consultants, state parties, and the infrastructure needed to help elect Republicans running in races across the country.
And they will serve as the face of a party that has struggled to come together, as evidenced by the drawn-out fight for speaker of the House that saw far-right lawmakers nearly derail the ascent to the job by Rep. Kevin McCarthy, California Republican.
Mr. Trump tapped Mrs. McDaniel as RNC chair following the 2016 election. He has stayed neutral this go-round. It is Mrs. McDaniel's first competitive race for chair.
As it stands, she is in the driver's seat.
Mrs. McDaniel, who is the niece of Sen Mitt Romney and former Michigan GOP chair, heralded the pledges of support she received from over 100 RNC members shortly after the midterm elections — an attempt to scare away possible rivals.
Ms. Dhillon and her supporters have downplayed the post-election pledges, saying they were made before she jumped into the race, giving members an alternative after a series of electoral setbacks for the GOP.
She has been working overtime to win over undecided members and peel away some of Mrs. McDaniel's pledged support. 
Ms. Dhillon and her allies argue that Mrs. McDaniel has lost touch with the grassroots and squandered away the party's money. They also accuse her of running a whisper campaign against Ms. Dhillon's Sikh faith and Indian heritage.
Mrs. McDaniel, a Mormon, denies those claims.
Looking to ratchet up the grassroots pressure on committee members, Ms. Dhillon and her allies, as well as Mr. Lindell's camp, shared the committee's personal contacts on social media, according to RNC members who say they have been bombarded with emails and phone calls.
"Most have been cut/pasted emails filled with misinformation," said Leora Levy, a committeewoman from Connecticut. "Most have been polite but some have been rude and even vulgar."
Mrs. McDaniel and her supporters say Ms. Dhillon has run a polarizing campaign that threatens to deepen divisions within the party at a time when the party must unite.
Kyshia Brassington, a committeewoman from North Carolina, said she has found Ms. Dhillons contact with committee members to be concerning.
"I personally have found Ms. Dhillon to be inexplicably aggressive and negative toward teammates," she said. "This is an issue and not conducive to winning."
Bill Palatucci, a New Jersey committee member backing Ms. Dhillon, said the blowback against the Dhillon campaign is bogus.
"I find it humerus that these very experienced pols are complaining about the rough and tumble of national politics," Mr. Palatucci said. "If you hadn't presided over such as disastrous cycle last November you would not have put yourself in this position to defend your actions."
"To me, this is politics as usual," he said. "You have to have a thick skin to be in this game and if you don't you shouldn't be here."
• Seth McLaughlin reported from Washington.