Tom Daley sounds as if he's still in shock. Britain's most celebrated diver recently returned from visiting various Commonwealth countries to investigate LGBTQ+ rights. Of course he knew there were issues; that in much of the Commonwealth homosexuality is still criminalised, thanks to the British empire exporting draconian homophobic laws to the colonies in the 19th century. But knowing something is different from meeting the people who live with those threats on a daily basis. It has changed so many of his views, he says – not least on what it means to be British.
It all started last October, when he said during a TV interview that he didn't think countries with discriminatory LGBTQ+ laws should be allowed to host major international sporting events. He was then invited to deliver C4's alternative Christmas message, by which time he had refined his position. "In 2022, the World Cup is being held in the second most dangerous country for queer people, Qatar. Why are we allowing places that aren't safe for all fans and for all players to host our most prestigious sporting events? Hosting a World Cup is an honour. Why are we honouring them? Holding a Formula One grand prix is an honour. Why are we honouring Saudi Arabia?"
Earlier this year, BBC producers suggested that in the buildup to the 2022 Commonwealth Games he should find out for himself just how hard it is to live as a gay athlete in countries that criminalise homosexuality. Making the resulting documentary sickened and inspired him in equal measure. Since then, he's done a volte-face about banning homophobic countries from hosting major sports events, and created a manifesto for LGBTQ+ inclusiveness that he is hoping will be co‑opted by the committees for everything from the Commonwealth Games to the Olympics.
Daley has so much to say that he doesn't quite know where to start. So it all pours out at once. "There are so many horror stories. I met an athlete in Jamaica who came in a hoodie, and sat behind a curtain with her voice distorted. She didn't want me to know her name because their lives are in danger if they are named. In Lahore, I spoke to an athlete that had to remain anonymous because she is incredibly high profile. She had a gay friend who was killed, stoned in the streets. An athlete in Nigeria told me one of his friends got lured in on a dating app, and then was stabbed to death and left to die in a pool of his own blood."
Again, he stops, appalled. "Did you know 35 of the 56 countries involved in the Commonwealth Games still criminalise same-sex relationships and seven have the death penalty?" The figures are tripping off his tongue now, but they still clearly have the power to disturb him. "In any of these 35 countries, it is illegal to be me. I went on such a wild learning curve," he says.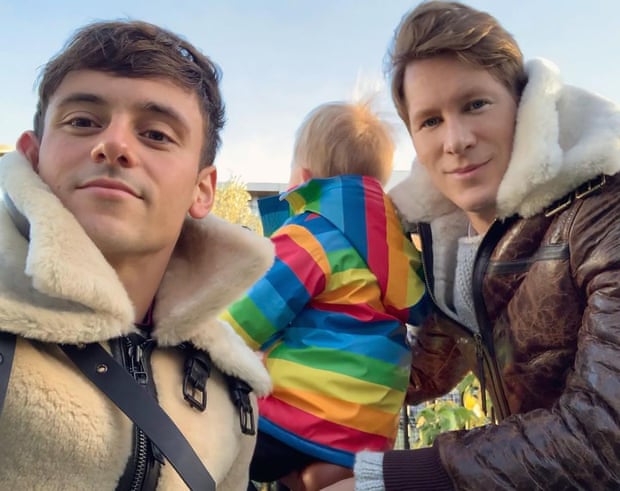 Daley is Zooming from the London home which he shares with his husband, Oscar-winning film-maker Dustin Lance Black, and their four-year-old son, Robbie. A stuffed giraffe towers over Daley, to his side is a knitted squid, and on the wall is a coloured alphabet. "This is Robbie's bedroom," he says. "We've got people around today, so it's easier for me to be locked away in a quiet space." Lovely giraffe, I say. He smiles. "We got it from a local flea market. It's missing an ear. They said you can have it for 25 quid if you keep the name Benson, so it's Benson the giraffe." You could have changed his name, and they wouldn't have known any better, I say. He looks at me, mildly disapproving. "But I'm not that kind of person. I'm an honest person. I couldn't do it."
How's Robbie? "He's great! Robbie's got a lot of personality!" Daley tells me he loves to climb up things and jump off them. "It scares the living daylights out of me. Lance says, 'What do you expect? You climb up things and jump off them for a living.' When I look back, I wonder how my parents dealt with watching me do what I do every day and not be petrified." He says Robbie has recently learned to swim. "This time last year he was the only kid in the class who didn't want to jump in the water!" Can he dive yet? "No, he's not interested in that."
He has packed so much into his life, it's hard to believe Daley is still only 28. I first met him when he was 17 and preparing for the London 2012 Olympics. He looked young for his age (except for the precocious six-pack) but seemed eerily mature, already a veteran. He started diving at seven, became the youngest winner of the senior 10m platform event at the British Championships and the European Championships at 13, competed in the Olympics at 14, won the World Championship at 15, and on it goes. Record after record broken. But that was just the half of it. His trials have been as notable as his triumphs. In 2011, his beloved father, Rob, died of cancer, aged 40. Rob seemed so different from the young Tom – he was big and bluff, and didn't care what he said to anybody. All he wanted to do was protect and support his family (Tom has two younger brothers).