Key events
USA 3-2 Venezuela, bottom 3rd inning
Andrés Giménez is up for Venezuela against Lance Lynn. USA might have the advantage here with their starter actually having gotten more than one out. Giménez works a full count and takes a ball in the dirt. Leadoff walk for Venezuela.
USA 3-2 Venezuela, top 3rd inning
Tim Anderson is up and he grounds out to end the inning. It would be hilarious if this ends up being a 3-2 game and everything was already decided in the first inning.
USA 3-2 Venezuela, top 3rd inning
Kyle Tucker hits a double and it doesn't look like this one will be overturned.
USA 3-2 Venezuela, top 3rd inning
Arenado hits a foul home run for strike one. Then he swings and connects only with air. The pitcher Luis García gets Arenado to hit a ground ball to shortstop and, after some discussion, he's called out at first for the second out of the inning.
USA 3-2 Venezuela, top 3rd inning
New pitcher Luis García is facing Goldschmidt. The announcers are now bringing up WBC historical statistics, I can't believe those are things now. I feel so old.
He strikes out on a 2-2 pitch. A shot of Ken Griffey Jr, a coach for USA, makes me feel even older.
USA 3-2 Venezuela, bottom 2nd inning
Torres strikes out and, honestly, I'm still a little bewildered that they overturned that double on replay. Might be something to note should Venezuela happen to lose by one run today.
USA 3-2 Venezuela, bottom 2nd inning
Never mind, on replay Suárez is called out on second. So there are two down and bases empty for Gleyber Torres. Both teams have now already used their challenges.
USA 3-2 Venezuela, bottom 2nd inning
Eugenio Suárez hits a booming double off a breaking pitch that breaks bad.
USA 3-2 Venezuela, bottom 2nd inning
The camera catches a guy in a Bald Eagle uniform, so there's at least one Team USA superfan out there. David Peralta is at bat here for Venezuela, he grounds out for the first out.
USA 3-2 Venezuela, top 2nd inning
Trout gets ahead of the count 2-1 and takes a healthy hack, just fouling off Ruiz's pitch. 2-2. On the next pitch, Trout strikes out.
We had a half-inning without any runs!
USA 3-2 Venezuela, top 2nd inning
Betts grounds into a double play. There's a runner on third, but two outs in the inning now. Venezuela will take that every time.
USA 3-2 Venezuela, top 2nd inning
Trea Turner up next, with a runner on second base. He gets ahead in the count 3-1. Mookie Betts, who just led off this game, is already on deck.
Turner takes ball four. Runners on first and second, no outs.
USA 3-2 Venezuela, top 2nd inning
7 hits, 5 runs in the first inning. Let's see if things calm down here in the second. J.T. Realmuto is up, and he goes down 0-2 against Ruiz. There's a brief talk with catcher Salvador Perez to make sure he wasn't hurt by a foul ball before the third pitch at the at-bat.
After all that, Realmuto golfs Realmuto's pitch into the outfield for a double. The hits just keep on coming.
USA 3-2 Venezuela, bottom 1st inning
Ronald Acuña Jr lines out to Trout in center to end the inning but, well, we definitely have a game here! The final score might something akin to 10-9, that's going to be my prediction.
USA 3-2 Venezuela, bottom 1st inning
Salvador Perez also hits one long, but this one stays in the park for a loud out. Two down.
2-run home run (Luis Arráez, USA 3-2 Venezuela)
USA 3-2 Venezuela, bottom 1st inning
Luis Arráez just absolutely crushes a two-run home run and this is just a one-run game already again. This is definitely a faster-paced game than yesterday's.
USA 3-0 Venezuela, bottom 1st inning
Anthony Santander pops one up for the first out of the bottom of the first.
USA 3-0 Venezuela, bottom 1st inning
You'll never believe what José Altuve does to start the bottom of the first: he gets a base hit. This might be an offense-heavy game.
Email from Joel Eley:
Hi Hunter from Jakarta. I totally get your views on Mr Trout but think that Ronald Acuna Jr must be chomping at the bit after missing the Braves World Series win through injury. Either way there is so much talent on both teams there should be a lot of hits with neither side having a true ace to start. I would also love to see Santander go big as he is from the Orioles and found last season a bit strange as were suddenly almost relevant again.

Hoping for a great game.

All the best Joel
Well, we certainly got a lot of hits to start here! Five consecutive ones, so I'm going to say that part of your prediction was spot on Joel.
USA 3-0 Venezuela, top 1st inning
Ruiz gets Kyle Schwarber to pop up to left field and we finally end the inning. Ruiz puts out the fire but Venezuela is down early and will have to get inspiration from Mexico's come-from-behind victory yesterday.
USA 3-0 Venezuela, top 1st inning
José Ruiz is now in the game for Venezuela, probably the right move given the fact that Pérez had nothing. He manages to get Tim Anderson to strike out for the second out.
RBI single (Kyle Tucker, USA 3-0 Venezuela)
USA 3-0 Venezuela, top 1st inning
Kyle Tucker singles in the third run of the inning. Venezuela challenges the call that Tucker is safe at second and the challenge is successful so at least there's the first out but that's three runs on the board and there's still a runner on third base with just one out.
USA 2-0 Venezuela, top 1st inning
Nolan Arenado hits a single. Man Pérez just cannot get an out here. Runners on first and third!
RBI Single (Paul Goldschmidt, USA 2-0 Venezuela)
USA 2-0 Venezuela, top 1st inning
Goldschmidt hits a single and that scores Trout from third base. This is quite a start!
Run on a single and an error! (Mike Trout, USA 1-0 Venezuela)
USA 1-0 Venezuela, top 1st inning
Almost immediately afterward, Mike Trout hits a single, Betts makes it to third… and then gets waved home after a throwing error by Ronald Acuña Jr. The USA almost immediately take a one-run lead!
USA 0-0 Venezuela, top 1st inning
Mookie Betts starts things off with a base hit!
USA 0-0 Venezuela, top 1st inning
Martín Pérez throws the first pitch and it's a strike to Mookie Betts! 0-1.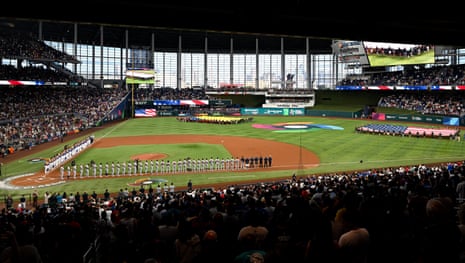 We have actual live coverage! Kenny Albert and John Smoltz are on the call. Also, I just realized that Kenny Albert is Marv Albert's son at this very moment. Nepo babies are everywhere!
SPOILER ALERT: It was. (Okay, they went with "Dusty Baker gets World Series ring" which I feel counts.)
I bet the number one 2022 postseason moment will be the Houston Astros winning the World Series.
Did I mention that the winner of USA v Venezuela goes on to face Cuba tomorrow in the semi-final matchup? That feels like an important detail that I just totally whiffed on but it is a thing that will indeed happen.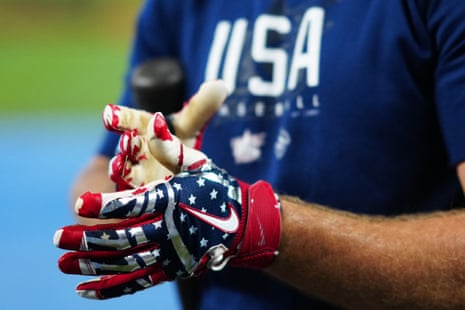 You can tell that there is absolutely no respect being given to the World Baseball Classic because there's no pointless pregame chatter on FOX before the start of this game. Instead, we're getting a compilation of 2022 MLB postseason highlights.
Predictions
Venezuela is the favored team in this matchup, particularly as the US had some struggles even to advance out of pool play. However, I just think the US is going to fight through the collective indifference of their countrymen and shatter Venezuela's dreams.
My reason? Mike Trout. After being stuck on the Los Angeles Angels and thus exiled from the MLB postseason, he has been craving a chance to show off his generational talents in big games. I feel like he's going to have a big moment today and that the US will pull off a victory.
Have a different opinion? Feel free to send it our way, by email to hunter.felt.freelance@theguardian.com or via tweet to @HunterFelt and we'll post them here and see how they hold up. (I realize that this may, in fact, be a disincentive.)
Venezuela lineup
1. José Altuve, 2B
2. Anthony Santander, RF
3. Luis Arraez, 1B
4. Salvador Perez, C
5. Ronald Acuña Jr, CF
6. David Peralta, LF
7. Eugenio Suárez, 3B
8. Gleyber Torres, DH
9. Andrés Giménez, SS
Starting pitcher: Martín Pérez
USA lineup
1. Mookie Betts, RF
2. Mike Trout, CF
3. Paul Goldschmidt, 1B
4. Nolan Areando, 3B
5. Kyle Tucker, LF
6. Tim Anderson, 2B
7. Kyle Schwarber, DH
8. J.T. Realmuto, C
9. Trea Turner, SS
Starting pitcher: Lance Lynn
Preamble
Welcome to the final game of the 2023 WBC quarter-finals. Tonight's game features the United States v Venezuela for the right to face Cuba in tomorrow's semi-finals. Team USA just barely made it out of Pool C, making them underdogs against an undefeated Venezuelan team that has scored 23 runs while allowing just nine.
Today's expected starting pitchers are Martín Pérez, currently with the Texas Rangers, and the venerable Lance Lynn, who is now with the Chicago White Sox. Starting pitching, obviously will be key here, but one wonders whether there is an x-factor at play: which team has more on the line? While Team USA cared enough to bring out a stacked lineup, there's no question that there is something of an enthusiasm gap between the countries these teams are playing.
When Edwin Díaz suffered a freak injury while celebrating Puerto Rico's victory over the Dominican Republic, there was an inevitable backlash from MLB fans who were upset that such an important player was injured in what was dismissed as an "exhibition game" rather than in spring training (never mind that this consists of nothing but exhibition games). While these games are getting big ratings outside the U.S., here in the states it's nearly impossible to find the scores in the avalanche of college basketball results.
Well, they are missing out. Mexico's comeback win over Puerto Rico was an absolute thriller, a game that wasn't decided until the final out. Now that pool play is over, the World Baseball Classic features some of the best baseball players on the literal planet playing win-or-go-home games in a postseason atmosphere. It only comes around once every four years and we should celebrate it.
Want to chime in? This blog is partly yours, as we would love to use your questions, commentary and such throughout today's game. You can send them to hunter.felt.freelance@theguardian.com if you prefer to use email or perhaps tweet them at @HunterFelt if you happen to use the Dying Bird Site.
It's USA v Venezuela at LoanDepot Park in Miami, Florida. The game is scheduled to start at 7:00 pm EST, airing in prime time on FOX in America. We'll be back before then here at the Guardian with starting lineups, predictions and other such important things (and also maybe a few non-important things).
Hunter will be here shortly. In the meantime here's a look back at Mexico's win over Puerto Rico on Friday night.