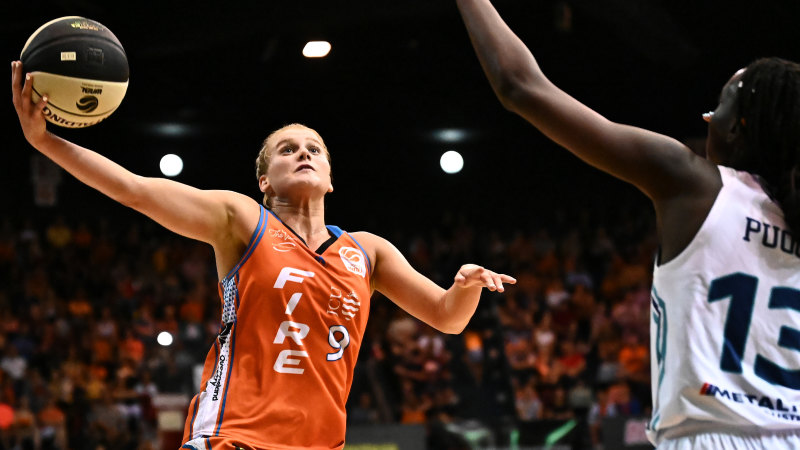 "That was ugly on our end. We need to go back and change some things. I'm excited for Wednesday and I want to show them what we have got."
Hawkins urged her teammates to close out the series on Wednesday night.
"We got one more to go – it's a great feeling," Hawkins told ESPN.
The Fire were on the front foot from the opening moments when Karlie Samuelson nailed a three-pointer with that lead growing to 28-14 at quarter time.
Cole and Blicavs were firing for the Flyers but Southside's turnovers repeatedly allowed the Fire to attack and grow their advantage.
Hawkins was scoring from inside and out for the Fire while late-season signing Heal made an impact off the bench including back-to-back layups late in the second quarter as the Fire took a 57-48 lead into half-time.
Hawkins and Heal had 16 points a piece, Heal didn't miss a shot for the half, while the Flyers were ruing their turnovers and lack of shots as they shot 56 per cent from the field as a team.
The Fire pushed their lead to 28 points in the third quarter as Hawkins continued to dominate but Flyers coach Cheryl Chambers called time out and switched her side to a 3-2 zone defence with athletic forward Nyadiew Puoch in the middle using her long arms to disrupt the home side.
That move saw the lead cut to 22 points and slowed down the Fire's offence with Puoch coming up with two blocks in quick succession but the Fire recovered with Courtney Woods' lay-up on the buzzer making it 78-52 going into the last quarter.
Fire coach Shannon Seebohm gave Hawkins her first rest of the WNBL finals series to start the last quarter and it mattered not as both sides emptied their benches with the likes of Georgia Pineau, Kate Gaze and Lana Hollingsworth playing in the final minutes.
The Fire and Flyers play game two of the WNBL grand final series at the State Basketball Centre on Wednesday at 6.30pm AEDT and, if needed, game three of the series will be in Townsville this coming Saturday night.